Home > Guide > Get YouTube Music Premium For Free
How to Get YouTube Music Premium For Free
It is well known that YouTube is a video streaming service. But we when we talk about YouTube Music, we are talking about the music streaming service that uses YouTube as its backbone. YouTube provides premium services to users so that they can access a vast reservoir of premium video and music content and amazing features. So, in that case, does YouTube Premium include YouTube Music Premium? Let's find out in this article that compares YouTube Premium and YouTube Music Premium. And we will also introduce the legal ways to get a YouTube Music Premium subscription for free. Most importantly, we will tell you a simple way for you to get the download feature of YouTube Music for free forever.
Part 1. What Is the Difference among YouTube Free, YouTube Premium and YouTube Music Premium?
Like most streaming services, YouTube provides free a tier for people to watch YouTube videos with a commercial break. People can upgrade the free version to a YouTube Premium package at a standard cost of $19.99 per month which bundles with the YouTube Music Premium service. And the normal fee of a separate YouTube Music Premium is $9.99 per month if you are not a YouTube Premium. The features offered by YouTube Premium and YouTube Music vary. Of course, if you are with a YouTube Free account, premium features won't go with you. Feel confused? Check the comparison details below.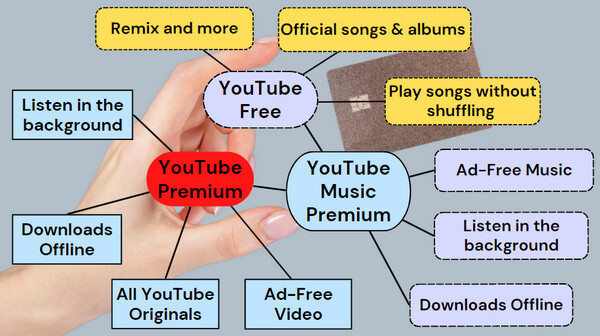 Part 2. How to Get YouTube Music Premium For Free?
2.1 Fresh User has a 30-day free trial on YouTube Music
If you have never started a YouTube Music Premium subscription, you are free offered a 30-day Premium trial of YouTube Music. Just sign up for a new email on YouTube Music and choose to be a Premium user. And you can start YouTube Music streaming with all the premium services for free.
2.2 Trying YouTube Premium Free Trial
Just as Amazon Prime users can enjoy free access to its Amazon Music service, YouTube Premium users are bonus with a free YouTube Music Premium as well. Every first-time user is rewarded with a 1-month free trial of YouTube Premium. By that logic, people are entitled to a 1-month free trial of YouTube Music Premium. Lucky as you are, if you verified your student status on YouTube, you will be given up to a 2-month YouTube Music Premium free trial.
Part 3. How to Keep YouTube Music Downloads After Canceling YouTube Music Premium?
As we mentioned above, if you have a free trial of YouTube Premium, you can enjoy all the benefits of your YouTube Video and YouTube Music streaming. But the free trial validity is limited. When the free trial runs out, you have to turn back to a normal payment to continue the service. Or you can choose a cheaper plan for YouTube Music Premium only to keep the music streaming service.
YouTube Music uses a cloud server to store the downloaded caches. When your YouTube premium subscription runs up, you will be prevented from downloading the music for offline playing or visiting the downloaded music anymore. Nevertheless, these aren't what we want you to be faced with. To take good advantage of the YouTube Music Premium trial, we will share with you one more way to keep your YouTube Music permanently playable. So you won't lose your music downloads if you ended the premium service.
Tool Required - KeepMusic YouTube Music Converter
KeepMusic YouTube Music Converter is pretty solid advice on enjoying YouTube Music with the least cost. All you need will be a YouTube (Music) Premium or YouTube Free account. And you can download your desired YouTube Music as real audio files and save them on the computer in flexible ways. This great music downloader enables you to convert YouTube Music to lossy and lossless formats like MP3, AAC, AIFF, ALAC, FLAC and WAV. Furthermore, KeepMusic will keep YouTube Music's original sound quality as well as the vital ID3 tags. A 10X faster conversion speed will be remarkable when you process a bunch of playlists in one go. Below, we list the main features that KeepMusic will bring to every user.
Well now, let's look into the steps on how to download YouTube Music thus you can keep all the YouTube Music downloads playable after you canceled the premium subscription.
Step 1 Visit the Web Version of YouTube Music in KeepMusic
Install and download KeepMusic YouTube Music Converter on your computer. After that, run it. There is a built-in YouTube Music Web Player on the front page, click it.
You are supposed to sign in with your YouTube Music account. You can log in with your YouTube Music Premium account to access YouTube Originals. Or you can log in with YouTube Free account to download the songs without ad interruption.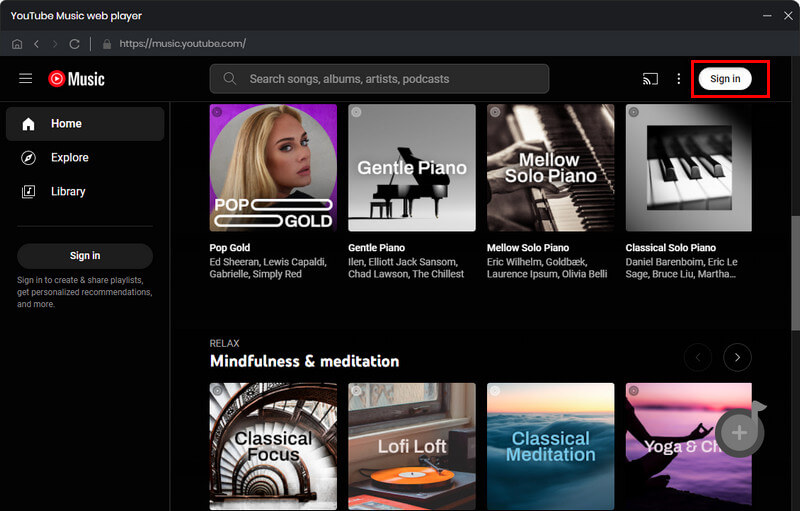 Step 2 Customize YouTube Music Output Parameters
Head to the program Settings where you can customize the YouTube Music output formats. Sidify offers different choices including MP3, AAC, AIFF, FLAC, WAV and FLAC. Along with that, you can set up the output file name, output folder, and output file organized way. If you want to save all the music in just one folder, you can go change the option to None on the Output Organized column.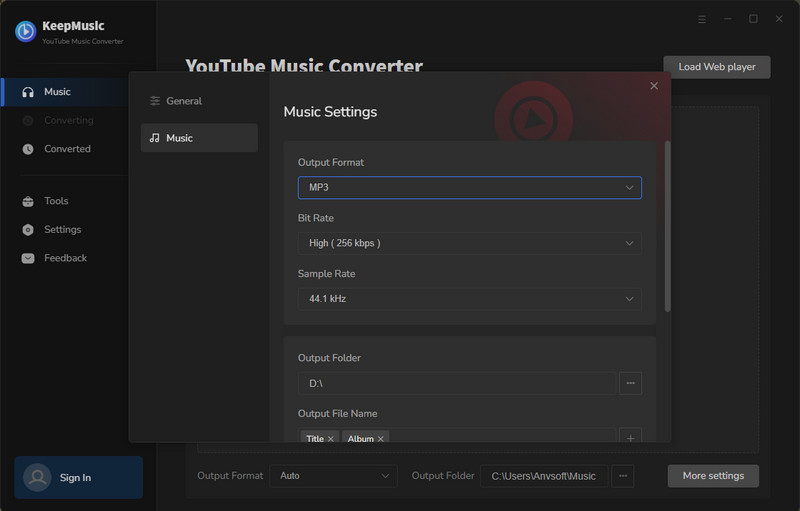 Step 3Add YouTube Music Playlist to Convert
Open the playlist in the YouTube Music library when the Add to list button at the bottom right will be activated. Click on it and select the playlist songs individually or in batch. Finally, tap the Convert Now function to start.
Note: The Save to list function is provided for multiple playlists conversion. Click on it when the selected songs will be put into the task lists temporally. You then just turn back to the library to continue the YouTube Music adding. At last, you can open the task list to put all the selected songs into effect in one go.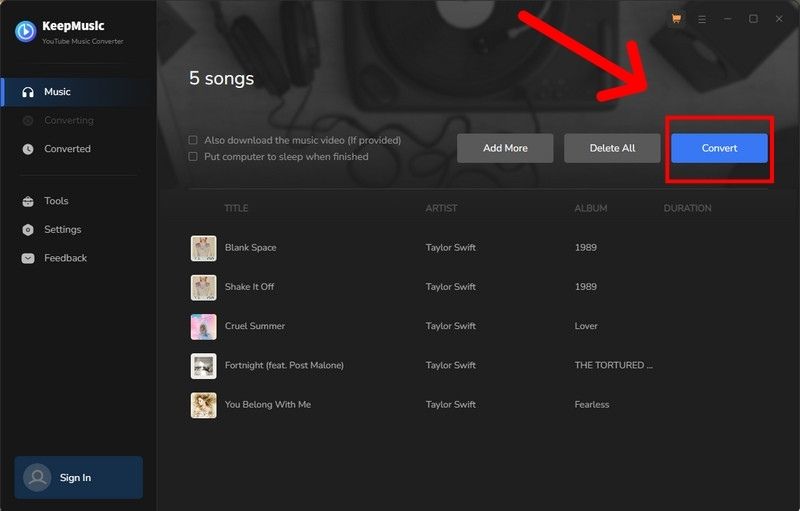 Step 4 Check out Downloaded YouTube Music
Not a while, you will get your desired YouTube Music downloaded and locally saved on the computer. By clicking the clock icon at the top right menu, you can easily reach out to the output folder with all the YouTube Music downloads.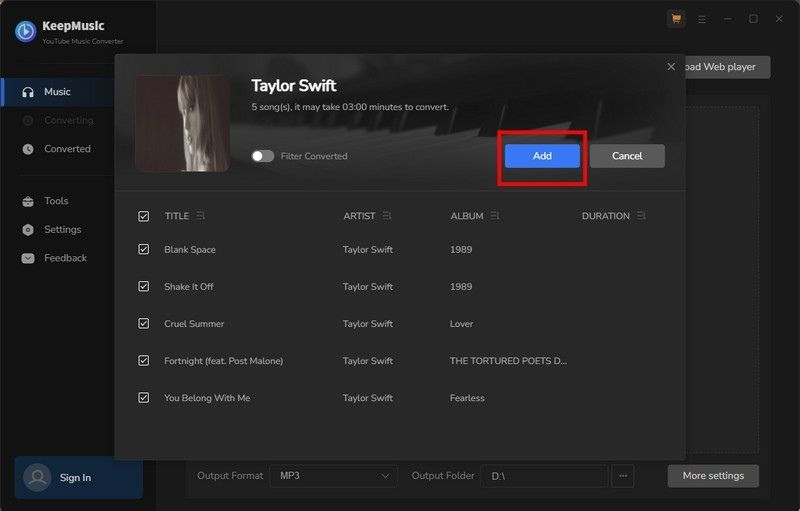 Notes: The free trial version of the KeepMusic YouTube Music Converter enables you to convert the first minute of each song and convert 3 music files at one time. You can unlock the limitations by purchasing the full version.
Summary: In conclusion, we tell the difference among YouTube Free, YouTube Music Premium and YouTube Premium. And in the last part, we are devoted to sharing with you a reliable to save all YouTube Music downloads onto the offline place, your computer. So you can keep YouTube Music permanently playable if you decided to cancel YouTube Music Premium. We highly recommend you KeepMusic YouTube Music Converter to take full use of YouTube Music Premium and download any content from the platform. KeepMusic is now on a free trial, you can get one downloaded and make you a clearer understanding of how it is useful to you!