Home > Guide > Download YouTube Music to iTunes
How to Download YouTube Music to iTunes
I am a DJ. I have a YouTube Music Premium, simply for a 'downloads' feature. But I only to find all the downloads cached on my mobile phone! How can I get the YouTube Music downloaded to my iTunes? I want to sync my YouTube Music to the iTunes library. I want to activate my YouTube Music on some iTunes-only approved DJ software. Would you help me out?
iTunes is one of the best ways to be entertained – it has everything from movies, music, and TV shows – all in one place. It lets you add to, organize, and play your digital content on your computer, and sync it to your mobile devices. It also allows you to play or download songs with Apple Music (with paid subscription). Additionally, you can integrate iTunes into your DJ software, djing all the music within the iTunes library. So many people will choose to download YouTube Music offline and sync them to iTunes for a DJ purpose.
But there is currently no way to directly save and manage YouTube Music on iTunes. But if YouTube Music is saved locally on the computer, YouTube Music can be imported to iTunes and become attainable in iTunes.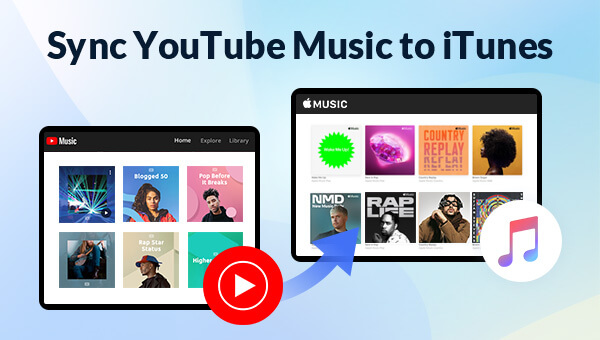 Part 1: Tool Required - KeepMusic YouTube Music Converter
In short, we need a tool to download YouTube Music onto the computer, thus enabling iTunes access to your YouTube Music. You may find no way to directly download YouTube Music to the computer by the traditionally official way. However, there is always technology to help you out.
KeepMusic YouTube Music Converter is a professional music converter for YouTube Music listeners who desire to download YouTube Music for offline listening outside of the official platform. It can convert your YouTube Music to diverse output audio formats, such as MP3, AAC, ALAC, FLAC, AIFF, and WAV, making YouTube Music independent audio files and transferrable to a wide range of external hard players other than YouTube Music platforms. Consequently, KeepMusic makes it possible to transfer your YouTube Music to iTunes much easier.
Officially, the download service only works for YouTube Premium subscribers. It is likely to download YouTube Music with a YouTube Free account by KeepMusic which supports both 2 types of YouTube Music accounts. Output sound level will be in perfect accordance with what you stream on the YouTube Music app.
KeepMusic YouTube Music Converter is a safe and 100% clean program. Below are the key features of KeepMusic YouTube Music Converter.
Part 2: Best Way to Download YouTube Music Offline
Step 1Access YouTube Music Library
Run KeepMusic YouTube Music Converter and click SIGN IN with your YouTube Music account. Either a Free or Premium account is workable with KeepMusic.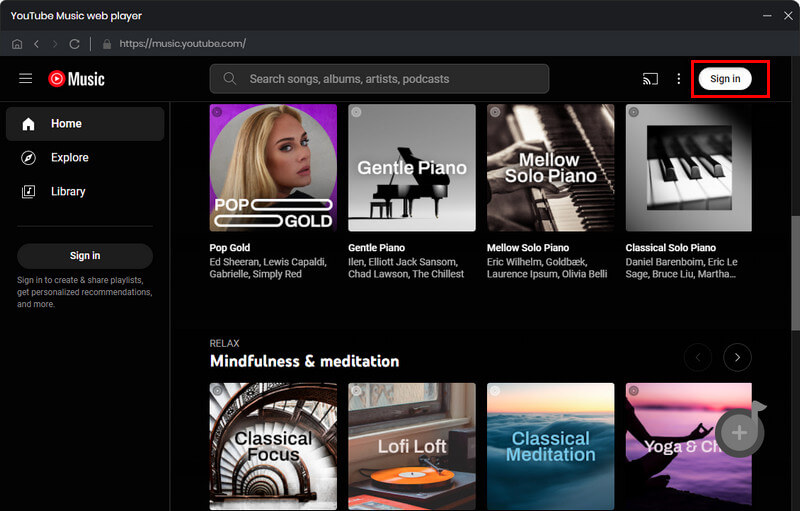 Step 2 Choose YouTube Music Output Format
There are 5 audio file formats accepted by iTunes, they are AAC, AIFF, Apple Lossless (ALAC), MP3, and WAV. You can go with KeepMusic to convert YouTube Music to these formats with ease. In the KeepMusic program, head to the Settings and choose one output format from the provided options. And complete other settings parameters as you prefer. If all is set up, close the window to apply the changes.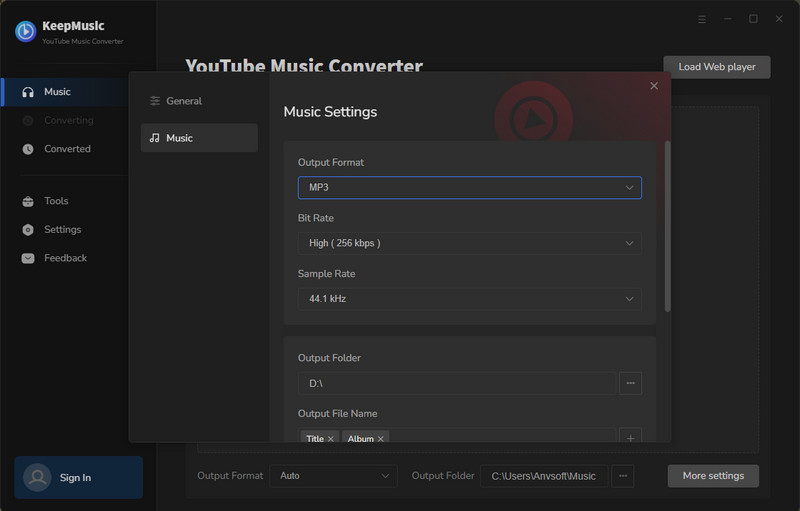 Step 3 Add YouTube Music to Convert
Open the YouTube Music playlist that you want to transfer to iTunes. And click the Add button to put the playlist song onto the conversion panel. Choose the songs in batch and tap the Convert to start the YouTube Music downloading process.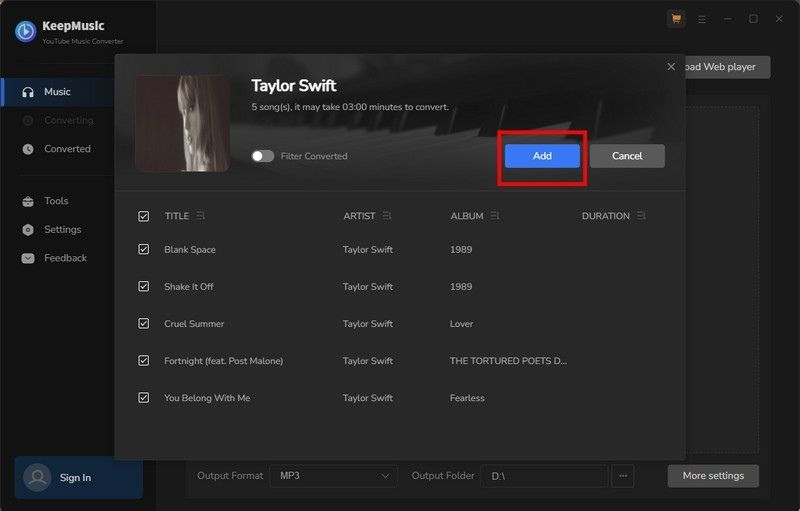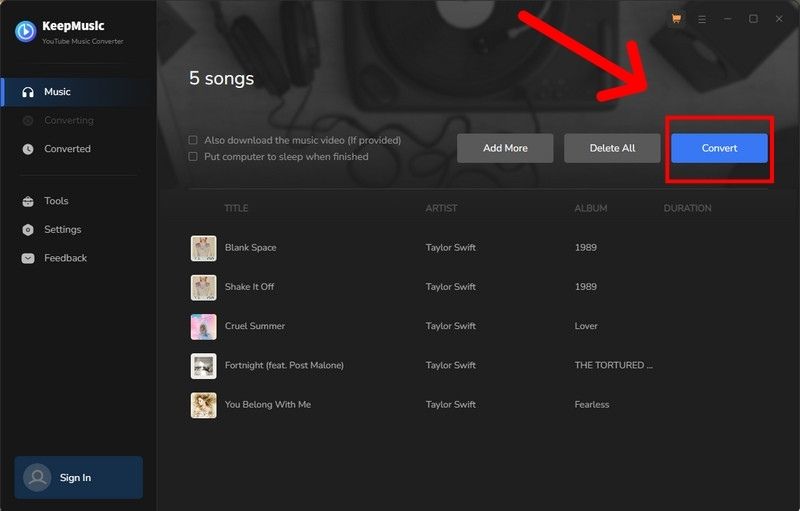 Step 4 Check Out Converted YouTube Music on Your Computer
KeepMusic will convert the music at a rate that is 10 times faster than the playing speed. Also, here you can set it to open the output folder after converting and just leave the program alone until the process is finished.
To find the downloaded YouTube Music, you can go to the path that you set up for the output folder. Or by tapping the Converted to view all your downloading history. And tap the folder icon after the song, you can reach out to the files in the local path. All the downloaded YouTube songs are in the format you set up before.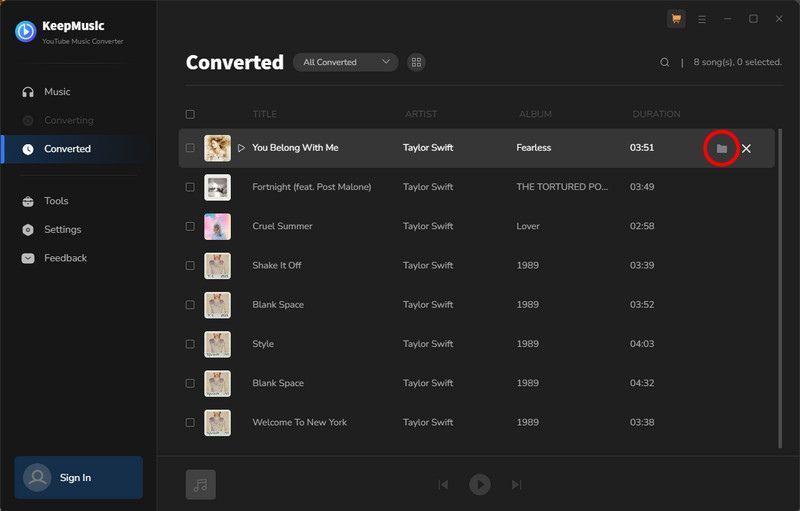 Notes: The free trial version of the KeepMusic YouTube Music Converter enables you to convert the first minute of each song. You can unlock the limitations by purchasing the full version.
Part 3: Fastest Way to Transfer YouTube Music to iTunes
YouTube Music is now locally saved on the computer. You can simply open iTunes and move the downloads to the iTunes library by dragging and dropping. Or you can use your mouse to import YouTube Music to iTunes step by step:
1. Open iTunes on your computer.
2. Click on the File menu.
3. Choose Add File to Library.
4. Choose a song you want to import.
5. Select the Add Folder to Library option.
Last but not least, you have to change the Settings on your DJ software. When you've done this right, you can find your iTunes folder in your music library on your DJ software. And you now just start to mix the YouTube Music songs in your free style!
Summary: This is definitely not a compliment on iTunes. But this media manager does facilitate the process to sync your YouTube audio files on the computer to all the Apple by-products, like the iPhone, Apple Watch, iPod, and Apple TV. And thanks to iTunes, your YouTube Music become accessible to some software that is authorized straightforward access to iTunes while YouTube Music currently hasn't been granted to yet, such as the Serato DJ mixers. It is no denial that KeepMusic YouTube Music Converter plays a vital role in the whole process. And with KeepMusic, you can play YouTube Music in many more ways as you want. And if you are now to YouTube Music, get this music converter for free using in the description above.