How to Convert YouTube Music to FLAC Lossless
If you're an avid YouTube music listener, you might be wondering how to get the best audio quality out of your songs. Streaming service YouTube Music offers a great variety of songs and great audio quality overall, there's one format that trumps all, the lossless FLAC format, which preserves all the audio data of the original file while still being significantly smaller than WAV or AIFF files. But just to clarify, when you download music from YouTube Music, you're downloading it to play offline via the app. It isn't in a "normal" format you can use, such as MP3, WAV, OGG, etc. If you're looking for an easy way to convert your YouTube downloads into FLAC lossless audio files, read on for our step-by-step guide here.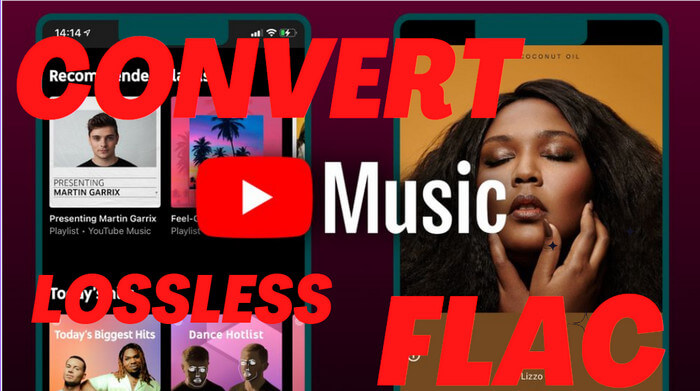 FLAC, or Free Lossless Audio Codec, is a type of lossless audio format that offers compression similar to MP3. However, FLAC retains all of the audio data from the original recording. It does not sacrifice some quality to achieve a smaller file size, as lossy format MP3 does. This allows FLAC to maintain a higher quality level than MP3, even when compressed to a smaller file size.
In addition, FLAC is more efficient in terms of quality-per-bit than MP3. This means that even a 256 kbps FLAC file will have better sound quality than a 320 kbps MP3 file.
FLAC files are usually much larger than MP3s. This means they take up more space on your hard drive or device, but the tradeoff is better quality sound. One downside of FLAC files is that they're not as widely compatible as MP3s. But its superior quality and efficiency make it the preferred format for many audio enthusiasts.
As we mentioned above, you can only stream YouTube Music online on mobile or desktop, you are not able to download YouTube Music to FLAC audio files. Instead, YouTube music sources are encoded in a proprietary format that can only be played back within the YouTube Music app. This can make it difficult to export YouTube music and convert YouTube Music to FLAC format, living alone with the streaming app. There are some workarounds, such as using screen recording software. But they are often unreliable and can result in poor-quality audio.
To its credit, KeepMusic YouTube Music Converter is qualified for the ability to convert YouTube Music to FLAC without quality loss. Built-in a YouTube Music Web Player within the program, you can directly pick up your favorite playlist to the converter and put the conversion into effect, then you can export and convert the YouTube Music to your preferred audio formats, such as MP3, AAC, ALAC, AIFF, WAV, and AIFF. With an experienced development team, KeepMusic is designed to proceed with the conversion at 10x speed, allowing you to download multiple songs in the least time. In the process, the principle ID3 tags will be exported along with the converted files. To put it another way, KeepMusic YouTube Music Converter is your best option to get YouTube Music flawlessly downloaded to FLAC!
Note: Not only that, if you want to make YouTube Music compatible with iTunes or your Apple-related devices and platforms, you can use KeepMusic to convert YouTube Music to ALAC with similar steps to FLAC conversion.
KeepMusic YouTube Music Converter has both Windows and Mac versions. Here, we will demonstrate the Windows version. If you are on a Mac computer, you can refer to this KeepMusic YouTube Music Converter for Mac User Guide.
Tools you need:
A Windows or Mac computer
YouTube Music Converter Windows or Mac version
A YouTube Music Free or Premium Account. (Learn How to Get a YouTube Music Premium Subscription for Free)
Step 1 Open KeepMusic YouTube Music Converter
Open KeepMusic YouTube Music Converter, click Open YouTube Music Web Player, and log in to it with your YouTube Music account.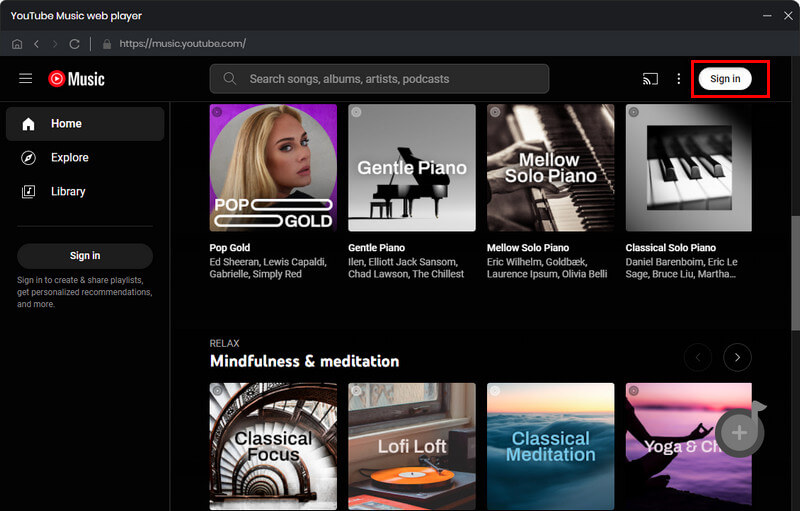 Step 2 Pick FLAC as the Output Format
Click the Settings icon in the upper-right corner. Here you can opt for the FLAC output format among MP3, AAC, WAV, FLAC, AIFF, and ALAC options. Further, you can personalize the output folder and how you'd like to name and sort out the output files, etc.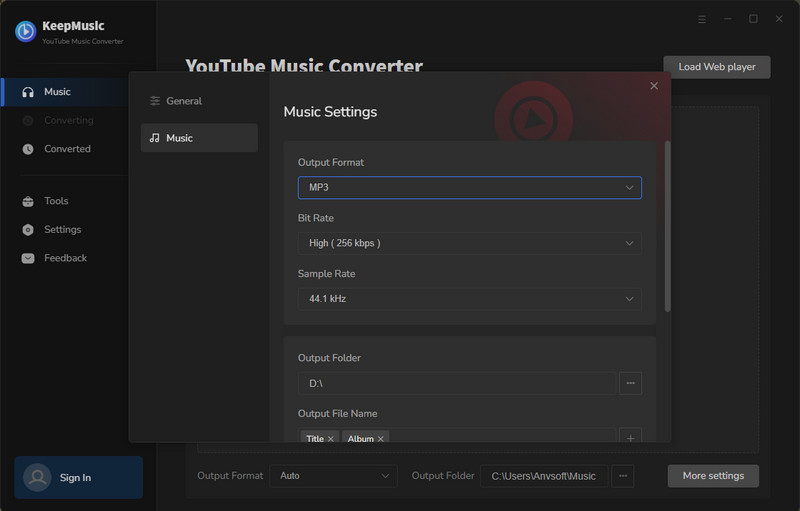 Step 3 Add YouTube Music to KeepMusic
Go to a playlist, and click the floating Add to list button. You can then select the songs in that playlist for conversion.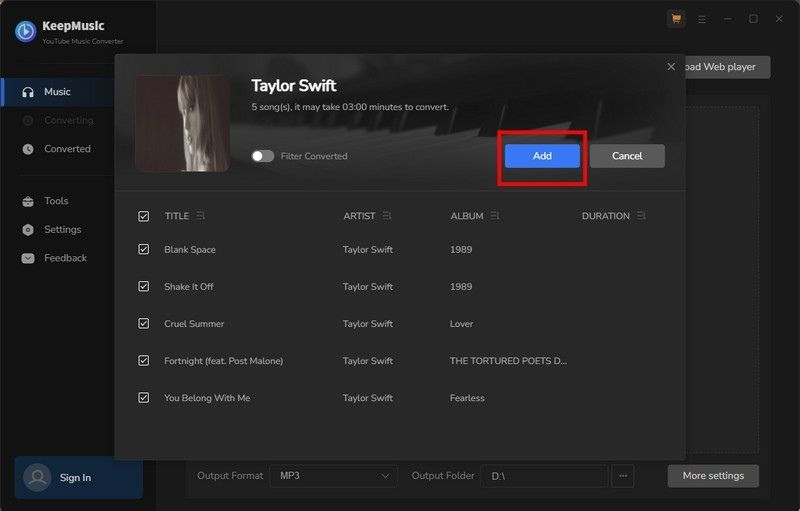 Tips: If you need to convert songs from multiple playlists at one time, please click the Save to list button before converting. Then go to the Home Page, open another playlist and click the Add button again to add more songs. Click the Task list icon in the upper-right corner and you can view all the songs that are ready for conversion.
Step 4 Convert YouTube Music to FLAC
Click Convert Now to start exporting the YouTube Music as FLAC files to the specified output folder. KeepMusic supports 10X faster conversion speed. Just wait for a while till the conversion is done.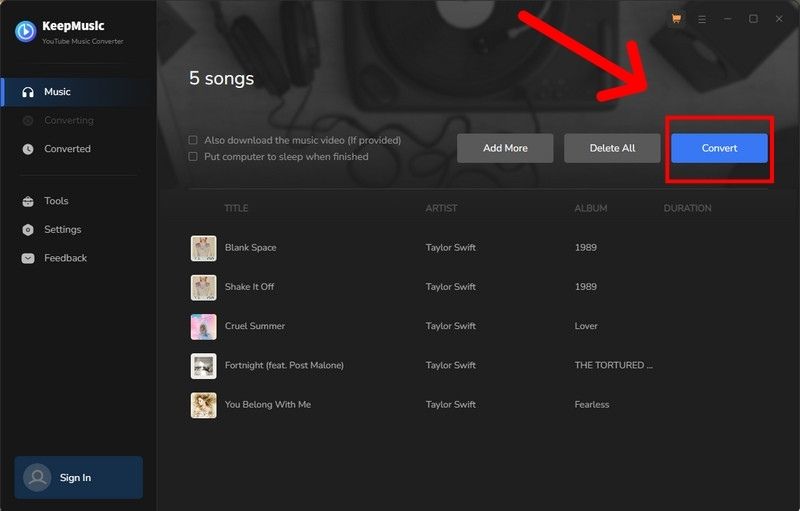 Step 5 Find YouTube Music in lossless FLAC format.
Usually, the output folder would pop up automatically once the conversion is done. If not, click the History icon in the upper-right corner and you'll see all the YouTube Music that has been converted successfully. And by clicking the Folder icon of each song, you'll be directed to the local drive that saved the FLAC files.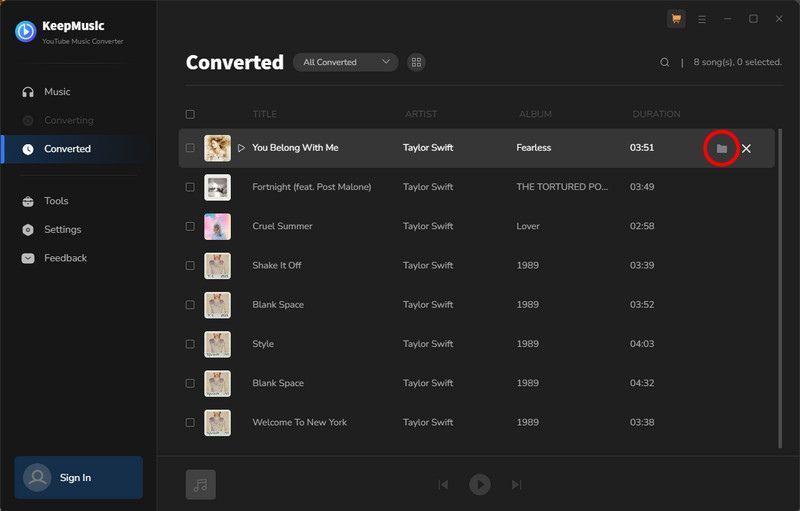 1. Foobar2000 is a freeware and best FLAC audio player for Windows OS. Its interface is simple and full of customization possibilities and advanced functions. Also, your player can handle large amounts of content.
2. GOM Media Player is capable of smoothly playing any FLAC file. It also offers advanced functions to play multimedia files. In addition to being free, it provides its users with numerous customization options.
3. VLC (VLC Media Player) is one of the most popular audio players among users, powerful software that supports a huge variety of file formats. Also FLAC files, of course. VLC can be run on multiple platforms like Android, Linux, and iOS. Plus, it's free.
Conclusion:
So there you have it! By converting your music to FLAC, you'll ensure that you always get the best possible sound quality, without any loss in audio fidelity. Have we convinced you yet? If not, check out our program KeepMusic, which will allow you to convert all of your favorite YouTube music into high-quality FLAC files with just a few clicks. You will also get your favorite music videos downloaded if you want!
The free trial enables users to convert the first minute of three songs at one time for sample testing. You can then decide whether you want to buy a license to unlock the full version or not.