Home > Guide > Import YouTube Music to DJ Software
How to Import YouTube Music to DJ Software
If you produce or remix music and want to use your own tracks in your DJ sets instead of buying them, you can export them from the YouTube Music library as MP3 (most commonly accepted format) or WAV files (universally supported lossless format), and import them to your software. You probably already have some DJ software and discovered that these programs don't have YouTube Music integration. The process isn't as straightforward as you might think. Luckily, there are ways around this issue that don't require any code editing or other advanced computer skills. In this article, we will explain how to import YouTube Music into a digital audio workstation (DAW) like Digital DJ or another third-party DJ program.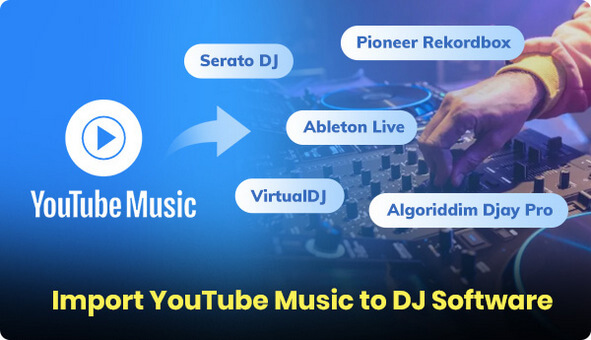 Part 1. Is there a DJ App for YouTube Music?
As far as we know, there are currently rare DJ programs that natively connect to YouTube Music. These programs include Serato DJ, Traktor Pro, Rekordbox DJ, Virtual DJ, Ableton Live, Cockos Reaper, Big Fish Music Beginner, Djay Pro, etc. All your music through the Youtube Music subscription service won't play around in the mentioned DJ software. Technically, you can add songs in the format of MP3 or WAV from the computer local storage to the DJ software and play them. Imported YouTube music from the computer can also use any of the DJ program's built-in tools like effects, loops, and beat grids.
Part 2. What Is Required to Import YouTube Music to DJ Software?
It follows that you need to download your YouTube Music as MP3 or WAV files and store the YouTube Music downloaded files to the computer. However, this isn't like you can just copy the CD onto your computer and listen to it there. Let's face it, you can only cache YouTube Music in your mobile app for offline playback. And you will find no way to copy the caches or use the cached files on the computer or DJ software.
Best YouTube Music Downloader - KeepMusic YouTube Music Converter
KeepMusic YouTube Music Converter meets your need to link YouTube Music with DJ software entirely. It conversely has a different way to download YouTube Music. With KeepMusic, YouTube Music can be converted to plain audio files in MP3, AAC, AIFF, WAV, ALAC, or FLAC format and locally saved on the computer. At this point, it made perfect sense you add YouTube Music to different DJ software and apps. This is a great way to build your library of songs to play at parties and remix into new tracks.
Not only that, but KeepMusic is capable of exporting the YouTube Music ID3 tags for you to better manage the audio files in the third-party programs. To its credit, KeepMusic processes the YouTube Music downloading at 10x speed. As you can tell, KeepMusic removes the encryption posed by YouTube Music. So you are likely to access YouTube Music 24/7 even though you cancel your YouTube Premium subscription in the future.
Part 3. Steps to Export YouTube Music Songs as MP3 or WAV Files
Alright now, we will give out the detailed steps to use KeepMusic to download YouTube Music as MP3 or WAV Files on the computer and add them to your DJ software.
Step 1 Download and install KeepMusic YouTube Music Converter
Click the button provided above to get download and install the latest version of KeepMusic YouTube Music Converter to your computer. There are 2 versions available. Do pick up the one compatible with your computer operating system to start.
Here you need to SIGN IN (button) with your YouTube Music account. You can go with your YouTube Free or YouTube Premium account.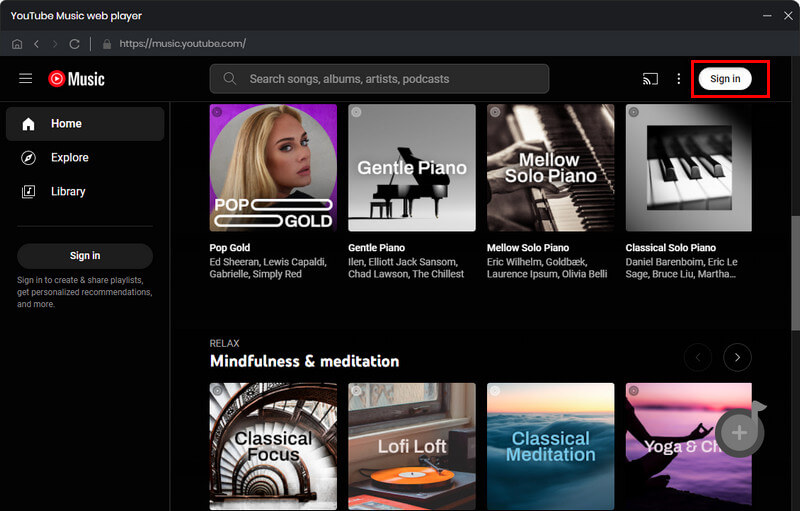 Step 2Set up YouTube Music Output Format to MP3 or WAV
Navigate to the Settings by clicking the gear icon at the lower left corner. Here you can choose the option of MP3 or WAV depending on the format that your DJ software accepts. And then complete other settings including the output sound quality, output folder, output file name, and the output organized method. If it set all up, close the window to apply the changes.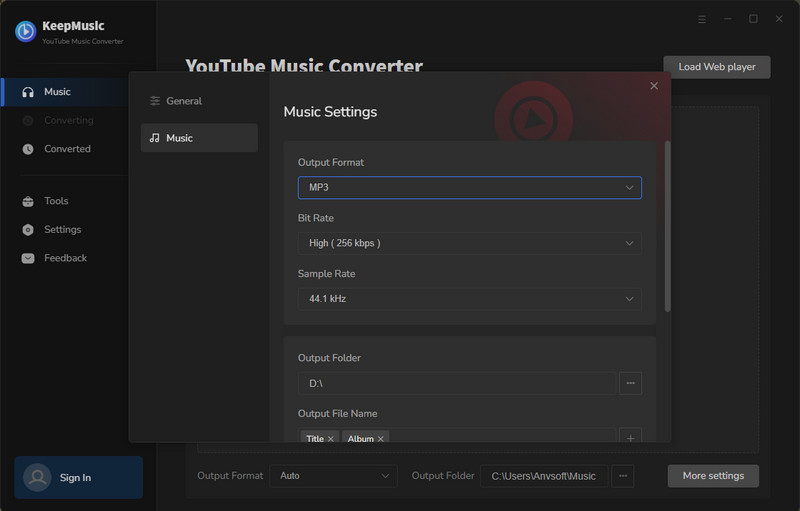 Step 3 Start to download YouTube Music
Open any YouTube Music playlist and click the Add button to put the playlist song onto the conversion panel.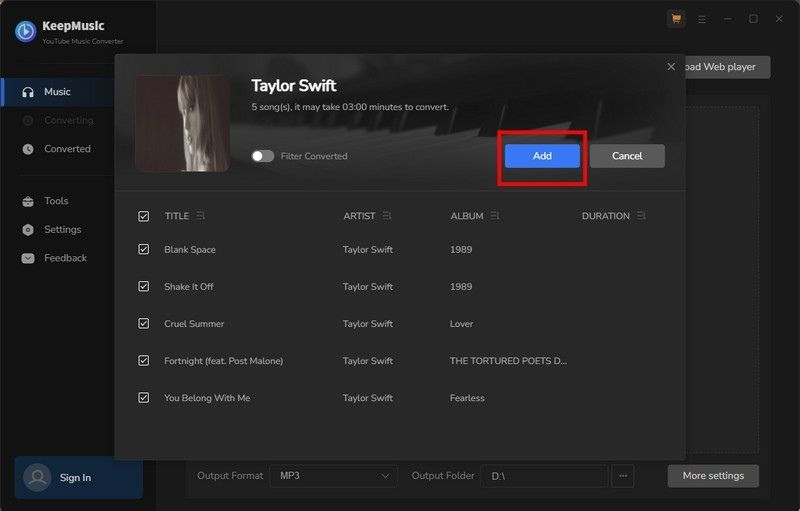 Choose the songs in batch and tap the Convert to perform the conversion mission.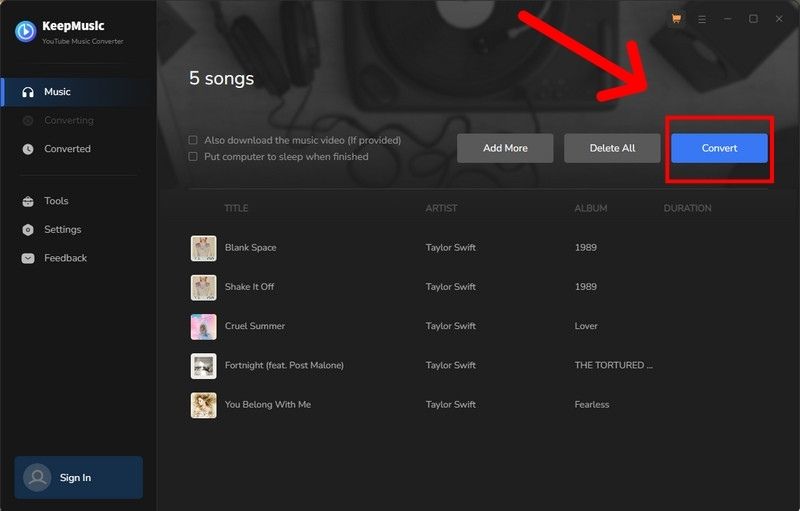 Step 4 View YouTube to MP3 files on computer local place
KeepMusic will convert the music at a rate that is 10 times faster than the playing speed. Also, here you can set it to open the output folder after converting and just leave the program alone until the process is finished.
To find the downloaded YouTube Music, you can go to the path that you set up for the output folder. Or by tapping the Converted to view all your downloading history. (Refer to the figure below.) And tap the folder icon after the song, you can reach out to the files in the local path. All the downloaded YouTube songs are in MP3 formats as you set up before.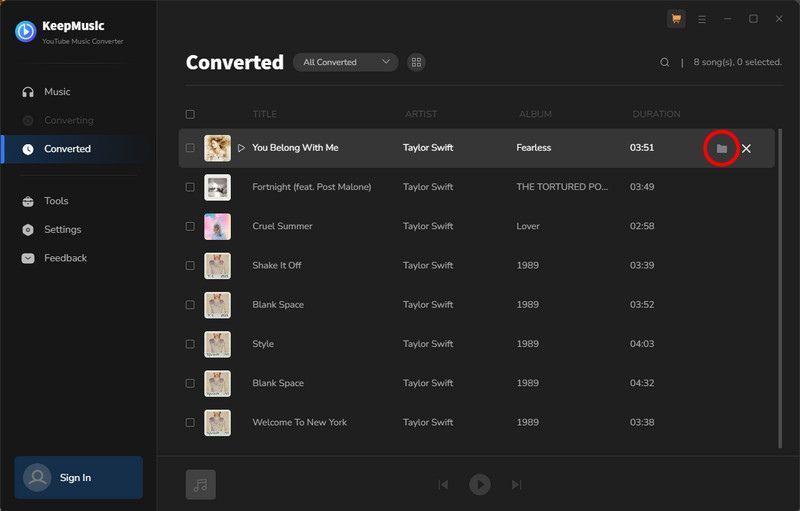 Part 4. Import YouTube Music to DJ Software
You can now import the downloaded YouTube music MP3/WAV files to your DJ software by adding them to an audio playlist. The best way to do this is by creating a new playlist in your DJ software and adding the audio files as items. After adding the songs to your playlist, you can add them to a deck and play them as you usually would with your DJ software. In most cases, you'll need to add the songs to the playlist twice. The first time, you should select "loop" as the play mode. After that, you can add the songs to the deck again without selecting the loop mode. This will allow you to play the track normally until you press the "play" button again.
Summary: As you can see, importing YouTube Music is a simple process that doesn't require any code editing or other computer skills. Keep in mind that you'll need to download KeepMusic YouTube Music Converter and put forward a YouTube Music into a specific format conversion. If you want to mix tracks from YouTube Music service, you can import them into your DJ software and use them as audio tracks with their own effects and filters. Alternatively, you can remix the songs into new tracks and play them in your sets.
Notes: The free trial version of the KeepMusic YouTube Music Converter enables you to convert the first minute of each song and convert 3 music files at one time. You can unlock the limitations by purchasing the full version.